If you're bored, pick up a book. Can't find a book? Here are 17 best girls books – but only for ages 12+
Keep in mind that all of these books are stunning pieces of art and the numbers don't really mean anything, every book is just as good as the next.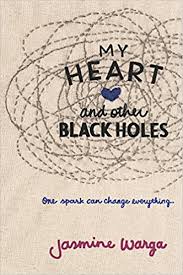 17. My Heart and Other Black Holes, by Jasmine Warga. 16 year old Aysel is obsessed with plotting her own death. Her father's mistakes ruined Aysel's image and landed him in jail, leaving her with her mother, who can barely look at her without cringing, and classmates who talk about her behind her back. Aysel is ready to do it, but she can't do it alone. Aysel finds Roman, a boy haunted by a family tragedy who wants to commit suicide as well. Aysel and Roman slowly start to evolve into something more than suicide partners, and Aysel begins to question if she really wants to go through with it.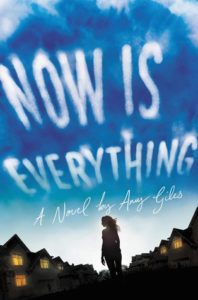 16. Now is Everything by Amy Giles. Hadley McCauley is the star lacrosse player on her team, a sport she loves. Hadley has a rich family and a wonderful life. But really, Hadley's life is the opposite. Her father is a terror, ripping up her family to have what he wants, and Hadley will do anything to keep her sister safe and naive about her father's violence. When Hadley does the forbidden, and falls in love with Charlie Simmons, a major accident takes place. When Hadley attempts suicide post-accident, everyone wants to know why. But only Hadley knows what happened that fateful day, and she's not giving it up.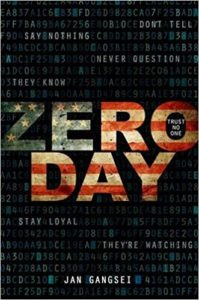 15. Zero Day by Jan Gangsei. Addie Webster was kidnapped 8 years ago. Now, Mr. Webster is the president of the United States and trying to keep the USA safe from mysterious terrorists, when Addie suddenly reappears. Addie comes with a story of isolation and mysterious captors, holding her for political reasons, but some people don't believe her. Addie has a huge secret, and Darrow, Addie's childhood best friend is determined to find out where Adele Webster has been for the last 8 years.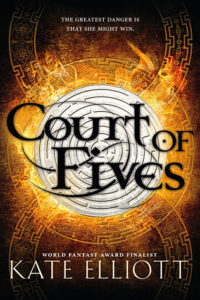 14. Court of Fives by Kate Elliott. Jessamy dreams of running the Fives, an athletic competition, for people capable of anything. But Jessamy can't enter, for fear of shaming her father, a Patron who worked very hard to get up to the level of a Captain in the army. When the head of Jessamy's house dies, a new head, Lord Garon takes over, kicking Jessamy's Commoner mother out of the household with Jessamy's sisters, and puts her into his stables to compete and win, or go to the mines. Jessamy soon gets caught up with Lord Kalliarkos, who's going to help her save her family from the death Garon is sending them to.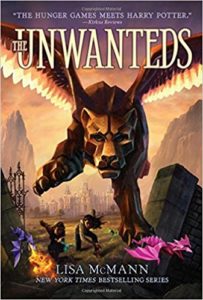 13. The Unwanteds by Lisa McMann. Alex and Aaron are inseparable twins – or so Alex thought. But the land of Quill is a strict, orderly, and corrupt land, and they discard anyone that shows signs of creativity. Alex has know for years that he is one of those creative people,  but Aaron is a different story. Aaron is the perfect example of a perfect Quillen, and his future will be different that Alex's Every year, on the same day, all thirteen year olds are labeled as Wanted, to go on to the military or to university, Necessary, to do all of the dirty work, and Unwanteds, like Alex, who show signs of things such as drawing, acting, dancing, singing and even story telling. These Unwanteds are purged and sent to their deaths. But when it's Alex's year to be purged, he dosen't die. In fact, he finds a whole world behind the walls of Quill.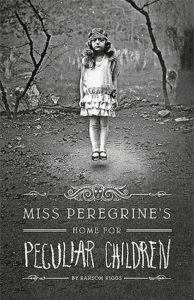 12. Miss Peregrine's Home for Peculiar Children by Ransom Riggs. Jacob's life just turned around. His grandfather died a very strange death right in front of his eyes, murdered by horrific creatures that no one believes are real. With his grandfather's last breath, he had told Jacob to go to the island. It didn't take long for Jacob to figure out which island it was, and soon Jacob is off to a isolated island to search for someone/something. When he gets there, it appears as if everyone there was killed years ago. But that can't be possible, there must be something else on the island. Something unreal and very peculiar.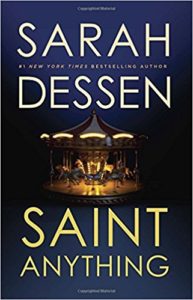 11. Saint Anything by Sarah Dessen. Peyton has ruined his sister Sydney's life. Sydney is now a depressed teenager, when her brother finally lands in jail for paralyzing someone while drunk driving. Sydney's mother ignores her, always concerned and over protective of Peyton while in jail constantly visiting and calling him. When Sydney meets the Chathams, an amazing and friendly family, she finally feels like herself. Meet Layla, a bouncy energetic person, who quickly becomes Sydney's best friends, and meet Mac, a quiet person who Sydney slowly gravitates towards, and finally feels peace.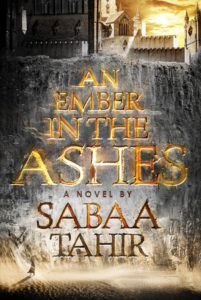 10. An Ember in the Ashes by Sabaa Tahir. The Martial Empire is a death pit for those who do not belong. When Laia's brother commits treason, Martials kill her family and drag her brother to jail, leaving Laia to escape to the Rebellion, where her deepest secrets lie. Laia risks everything and goes to spy on her worst enemy, at the greatest military academy in the world, where Mask's train. Elias Veturias, abandoned by his mother at birth and then forced to come back and train under her guidance is the best and secretly the most unwilling Mask in training. When Elias and Laia cross paths, the world erupts with problems.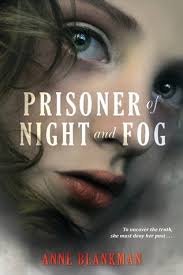 9. Prisoner of Night and Fog by Anne Blankman. Gretchen is practically family to Adolf Hitler. Gretchen adores Adolf, and believes in the Nazi's rule, until she meets Jew Daniel Cohen. Daniel helps her understand the harm Hitler is doing to the world. Daniel doesn't believe that Gretchen's father threw himself in between the path of a bullet and Hitler during a battle, dying a hero. Daniel suspects that Gretchen's father was murdered. And with Gretchen's help, maybe they can get to the bottom of this mystery.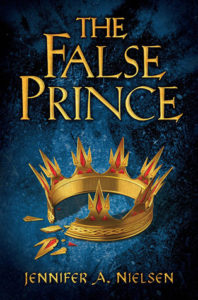 8. The False Prince by Jennifer A. Nielsen. Sage is a master thief and orphan, when a nobleman of Carthya yanks him off the streets to impersonate a dead prince, to help bring power to himself. If he can't make the court believe that he's the late Prince Jaron, then the nobleman will murder him.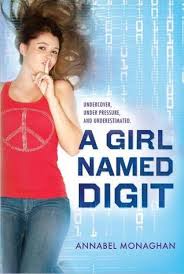 7. A Girl Named Digit by Annabel Monaghan. Farrah, dubbed "Digit" has a secret. She is a math genius, and when she unknowingly solves a terrorist group's secret message, her life gets put into danger. Digit has to fake her own "kidnapping" and stay at a FBI secret hideout with responsible John. Digit leads John to New York, where more complicity arises.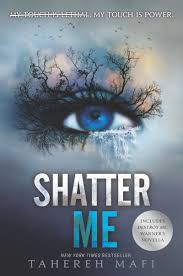 6. Shatter Me by Tahereh Mafi. Juliette has been locked up for exactly 264 days. Juliette is not insane, but her touch is deadly, and no one knows why. When the Reestablishment yanks Juliette out of the asylum, and demand her to be their weapon, Juliette refuses, and her childhood friend Adam, is willing to help break her out of the jail her life has been.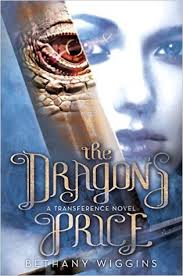 5. The Dragon's Price by Bethany Wiggins. Sorrowlyn is an extremely sheltered princess, destined to die at her own hand. And when the time comes to choose – lose her life at the hands of the dragon, or marry a foreign prince, Sorrowlyn is determined to never let anyone choose who she marries, so she chooses the dragon. When Sorrowlyn slays the dragon, with the help of the prince she rejected, they set off for the land of Anthar, a journey that during which Sorrowlyn learns many things about herself, and about how she knows that she's falling in love with the handsome and brave prince who saved her life.
4. I Am Not Your Perfect Mexican Daughter by Erika Sánchez. Julia is an outcast in her family, never living up to their standards. Why should Julia need to go to college? Why should Julia become a writer? Why would Julia ever want to move to New York, away from her family? But when Julia's perfect sister Olga dies, what happens to Julia? Julia is not your perfect daughter, and she could never be "good like Olga." But Julia begins to realize that Olga may not have been a perfect daughter. What was she hiding? And what will happen to Julia's completely destroyed life?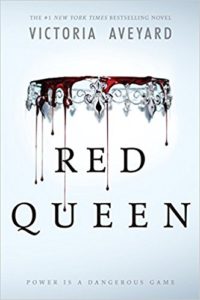 3. Red Queen, by Victoria Aveyard. Mare is just another Red, living in the shadow of the exalted and powerful Silvers. But Mare is not ashamed to have common red blood, and she meets someone who gives her a unexpected job in the palace, saving her from being drafted, like her three older brothers. But in the palace, Mare blows her chance, and finds out that there's more to Reds then everyone thought. And now, Mare will come back to take her revenge with powers no one would ever believe.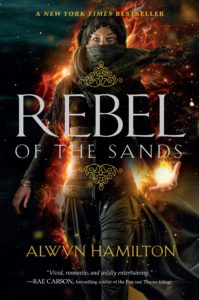 2. Rebel of the Sands, by Alwyn Hamilton.  Amani lives at the end of the desert, in Duskwalk, where nothing ever happens. Amani longs to run away to Izman, the capitol of Miraji, where she could finally be free. Finally, someone gets Amani out of Duskwalk, just not the way she was thinking. Riding through the desert on a mythical beast, Amani is about to become one of the most dangerous and famous people in Miraji.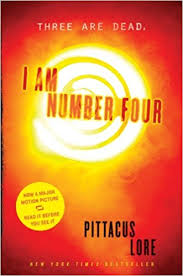 1. I Am Number Four, by Pittacus Lore. John has lived his whole life running from them. But when John moves to Paradise, Ohio, he meets Sarah and Sam. Suddenly, with his first real friend, and his first girlfriend, it becomes harder and harder to keep his major secret, and if John is found, they woulnd Sam and Sarah would go down with him.